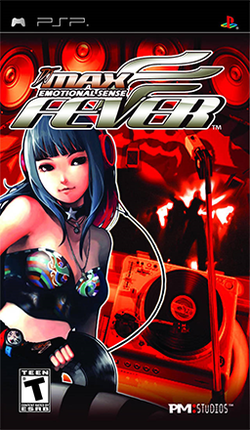 DJ Max Fever is a music game for the PlayStation Portable developed by Pentavision and PM Studios. It was released in North America on January 27, 2009. Although the franchise has made several appearances in Asia, DJ Max Fever is the first DJMax released in the United States and Europe. The game is a compilation of DJMax Portable and DJMax Portable 2 along with additional features. By decision of PM Studios, it is the only title in the DJMax series with a space between words "DJ" and "Max". A digital version of the game was released in January 2010 on PlayStation Network but later removed due to licensing expiring.</p>
The game is mostly based on DJMax Portable 2 but uses the DJMax Portable Black Square Entire Control System, meaning the green notes that appear will stop the music track if missed. There is the auto-correct function, as for example if you hit the ◄ with ▲, your hit will be auto corrected deducting however 20% of the score the note would normally get. 8B mode loading screens don't show the name of the song unlike in DJMax Portable 2. Also some of the "achievement discs" have been changed.
DJ Max Fever has bad translation, Therefore some of songs are not accurate or missed out.
A.I
Whisper to the wind
Luv Flow
Blythe
On
Brand New days
Bye Bye Love
Cherokee
Chain of Gravity
Divine Service
End of the Moonlight
Fallen Angel
For Seasons
Get on Top
Goodbye
Higher
Extreme Z4
Ladymade Star
NB POWER
FTR
Mess it Up
Miles
Your Own Miracle
Jupiter Driving
Rock or Die
piano concerto 1
NB RANGER
NB RANGER : Returns
Fear
OBLIVION
Out Law
Catch me
KUDA
Plastic method
Sunny Side
Brain Storm
Wonder Love
Seeker
Syriana
So Much in Luv
SQUEEZE
Sunset Rider
Long Vacation
Starfish
Stay with me
taekownburi
Whiteblue
Save my Dream
Yo Creo Que Si
Ray of Illuminati
Enemy Storm
Never Say
morning person
Let's Go baby
Elastic Star
Memory of beach
Hamsin
Sin
JBG
DJ Max: Fever is one of the rarest ISOs to be downloaded illegally in internet network.
Ad blocker interference detected!
Wikia is a free-to-use site that makes money from advertising. We have a modified experience for viewers using ad blockers

Wikia is not accessible if you've made further modifications. Remove the custom ad blocker rule(s) and the page will load as expected.