Djmax Technika is the first touch screen rhydem game in Korea made by Pentavision.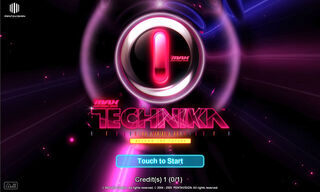 Djmax Technika is popular for its features such as
Three stereos (left, right and down)
22"in touch screen and view screen.
Earphone plog (for noisy places).
Back Ground Movie or BGM.
Dj Technika is the first ever version.
Djmax Technika 2 crew race is the seond version.
Djmax Technika 3 crew challenge is the third and the present version of the game.
Ad blocker interference detected!
Wikia is a free-to-use site that makes money from advertising. We have a modified experience for viewers using ad blockers

Wikia is not accessible if you've made further modifications. Remove the custom ad blocker rule(s) and the page will load as expected.